Services
CD/DVD Duplication packages to any quantity
Based in Liverpool UK, Bump Studios Digital Media specialise in CD duplication to DVD replication. All disc copying, digital printing and assembly is carried out in-house.
For each duplication order, an actual sample of your cd/dvd is sent to you for approval before going to press.
Design
Downloads - CD, DVD & CD-rom card templates in photoshop and PDF format.
We can transfer your old Audio Tape Cassettes and 33/45/78 RPM Vinyl LP's and Single Records to Compact Disc or MP3 format.
We use professional audio restoration equipment with top quality Analogue-to-digital converters to get your old recordings into the digital domain. From there we spruce up the recordings by increasing the volume and removing any detrimental noise, scratches, clicks and pops. The recordings are then layed out in order and burnt to CD. To compliment the recordings we also print the track titles directly onto the disc and paper inserts (if needed). The process is then complete.
Don't let your treasured VHS Video recordings gather dust and rot!
Save your old VHS Video tapes from the loft and let us restore them onto DVD disc. We can fit up to 2 hours of uncompressed video onto one DVD disc. If your video tape footage is longer than this, then we can either span it over 2 DVD's or compress the video footage to fit on one DVD. The latter method does lose a bit of quality though. We can also print onto the DVD disc and package them in presentation DVD cases for gifts, promo's, etc. Our VHS Video to DVD service is ideal for family functions, holiday videos, wedding videos, birthday parties, anniversary functions, etc.
Rates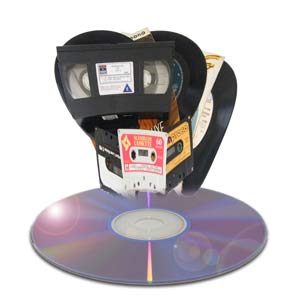 Tape Cassette to CD
Tape Cassette: Up to 45 minutes £20
Tape Cassette: Up to 60 minutes £25
Tape Cassette: Up to 90 minutes £35
Reduced rates for 3 or more Cassettes. Call to discuss
Vinyl Record to CD
7" Single: £15
12" E.P: £20
12" Album: £25
Reduced rates for 3 or more Vinyl Discs. Call to discuss
Video Tape to DVD
Up to 2 hours (1 DVD): £25
Over 2 hours (2 DVD's): £35
Extra DVD: £2.50
Reduced rates for 3 or more Video Tapes. Call to discuss